The Lager of Britain is Ready for Take Off
One of Britain's most popular beer brands, Spitfire, is making an exciting new addition to its collection: Spitfire Lager.
Spitfire Premium Kentish Ale was first brewed in 1990 to honour the 50th anniversary of the Battle of Britain, and last September, to mark 75 years since the historic air campaign, Shepherd Neame introduced Spitfire Gold, which has also proved a huge hit with drinkers.
This year sees another special anniversary: 80 years since the Spitfire's first flight in 1936, which is being commemorated with the launch of Spitfire Lager, a permanent addition to the Spitfire range.
Spitfire Lager (4% ABV) is a smooth, refreshing golden lager with a sweet vanilla aroma, featuring lager and brown malts, and Herkules hops.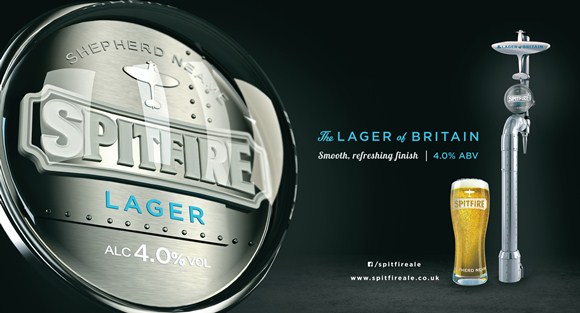 Stand-out on the bar is guaranteed by its bespoke Spitfire tap handle and textured gun metal font, reminiscent of the iconic plane's body work.
Spitfire brand manager William Upfield said:
In recent years there has been a huge growth in demand for real ales created using traditional brewing methods and locally sourced ingredients, such as our Spitfire range. Drinkers are now prepared to experiment within the lager portfolio, which prompted our decision to launch Spitfire Lager. We hope that it will encourage a new group of drinkers to discover the Spitfire brand, as they enjoy the character, flavour and aroma of the refreshing new Lager of Britain.
Spitfire Lager will be available on keg nationwide from June 1.