COUNTRY PUB UNVEILS NEW LOOK AND EXCITING NEW MENU
Posted: 23rd October 2018
A popular country pub has been revitalised with a new look and an exciting new menu.
The Dove, owned by Shepherd Neame, is based in the picturesque hamlet of Dargate near Faversham.
It has just been taken over by business partners William Shenow-Brady and Sophie Webb. After working together for seven years at a restaurant in Canterbury, they decided it was time to branch out on their own.
William, 28, works as head chef, while Sophie, 22, manages front-of-house. They are both familiar with the area, as William grew up in Wingham and trained in catering at Canterbury College while Sophie grew up in Sturry and joined the hospitality industry from school. Sophie said: "After we decided to start our own business we started looking at restaurants and pubs, and when we found The Dove it ticked all the boxes. We loved its traditional look and warm, inviting feel, and it was spacious but not too big. It's also in a great location, surrounded by beautiful countryside but only 15 minutes' drive from Faversham, Canterbury or Whitstable."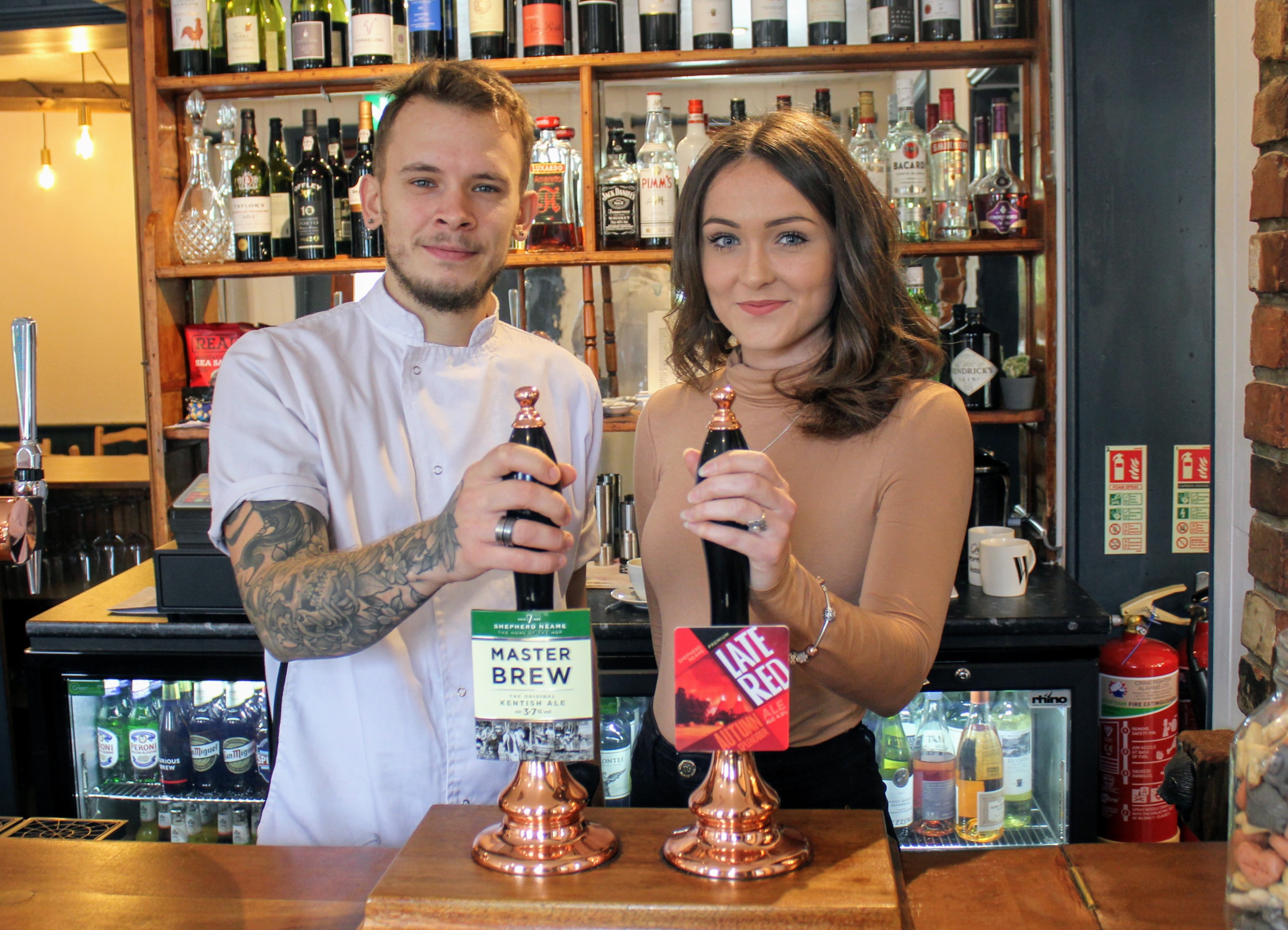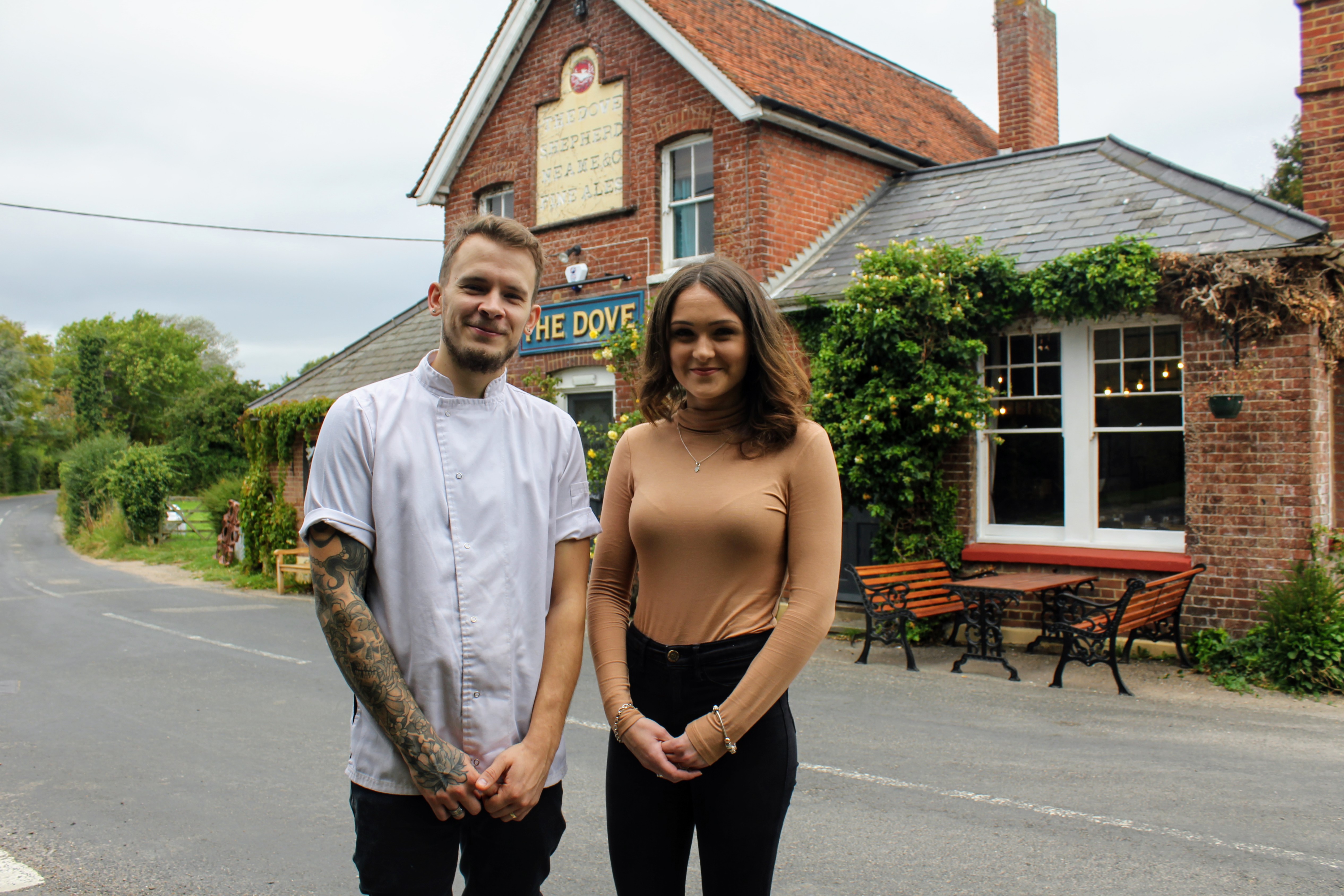 The pair took on The Dove in July before closing it for a couple of months to allow extensive renovations. Supported by Shepherd Neame, work included painting throughout, refurbishing the toilets, installing new lighting and installing new kitchen equipment. The top bar counter was also removed to make the bar area lighter, and all the floors were renovated.
 
William said: "We are really pleased with the finished results. The pub looks lighter and more contemporary, but we have still retained its traditional character."
 
The business is a real family affair, as William's brothers Tom and James helped with the refurbishment work, his father Michael looks after the garden and his other brother Robert supports the pub's digital marketing. Sophie's sister Chloe is part of the management team while her Mum Claire reupholstered the pub furniture. William lives at the pub with wife Samantha, and her father Jason also built new garden furniture. 
 
William said: "It was quite daunting at the start as Sophie and I had never run a pub before, but we have received amazing support from our family, and also from Shepherd Neame, who have not only helped with the refurbishment but given us extensive guidance in areas such as cellar management and financial management."
In addition to its new look, The Dove boasts an exciting new menu of contemporary British classics. Everything is cooked to order, using fresh local produce from suppliers including cheese from Cheesemakers of Canterbury based in Dargate, meat from the Goods Shed in Canterbury and Salvatori in Whitstable, and fish from the Goods Shed and Griggs of Hythe. William also makes his own bread, and gets vegetables and fruit from BVS Wholesalers in Whitstable, and from his Mum and brother James, who have allotments in Whitstable and Herne Bay.
 
The set lunch is priced £23.50 for two courses or £27.50 for three courses, with a traditional roast available on Sunday. The pub also serves a small range of homemade sandwiches and bar snacks during the day. In the evening, the set dinner is priced £34.50 for two courses or £40.50 for three courses. The menus change regularly depending on the produce available.
 
William said: "Our aim is for the Dove to still be very much a friendly, relaxed pub, but serving restaurant-quality food. My inspirations are chefs such as Nathan Outlaw and Tom Kerridge, who use the best ingredients to create contemporary yet simple British dishes."
 
Children are welcome at The Dove, which has high chairs available and can offer smaller portions of all menu items, along with a selection of more traditional children's dishes.
 
In addition to their food offer, the pub's drinks offer has also been refreshed, with a great range of beer and cider on draught and in bottle, along with a choice selection of premium wines from a range of suppliers including the nearby Simpsons Estate in Barham.
 
Due to its rural location, the Dove is a popular stop-off for walkers, particularly those with dogs, as William and Samantha have their own pooch Poppy and others are very welcome, with a water station and free dog biscuits available.
 
Sophie said: "We are really pleased with how things are going so far. The local residents have been really supportive, and we are getting a lot of bookings through word of mouth recommendations. It has been hard work, but nothing beats the satisfaction of running your own business and knowing that you have provided your customers with a really memorable, enjoyable experience."  
 
The Dove  is open from Tuesday to Sunday, with food served from 12 noon to 3pm and 6.30pm to 9pm Tuesday to Saturday, and 12 noon to 4pm on Sunday. 
 
For more information or to book visit www.dovedargate.co.uk or call 01227 751085.
Opening times today
12:00 - 23:00
Serving food today
12:00 - 15:00, 18:30 - 21:00