BRITAIN'S OLDEST BREWER GIVES HERO'S WELCOME TO GREAT ESCAPE CYCLE TEAM
Shepherd Neame staff turned out in force to welcome the RAF Spitfires Rugby 7s home from a 1300km bike ride to commemorate the 75th anniversary of the Great Escape.
The Faversham Brewery marked the final stage of a gruelling ride from of the notorious Stalag Luft 3 POW camp in Zagan, Poland from which 76 allied troops escaped in 1944, an event later immortalized in the classic film starring Steve McQueen.
The team was joined on the final stage by Mike Goody, representing the RAF Benevolent Fund, for which the ride raised funds. Mike had a leg amputated after he was involved in an explosion while serving with the RAF Regiment in Afghanistan in October, 2008.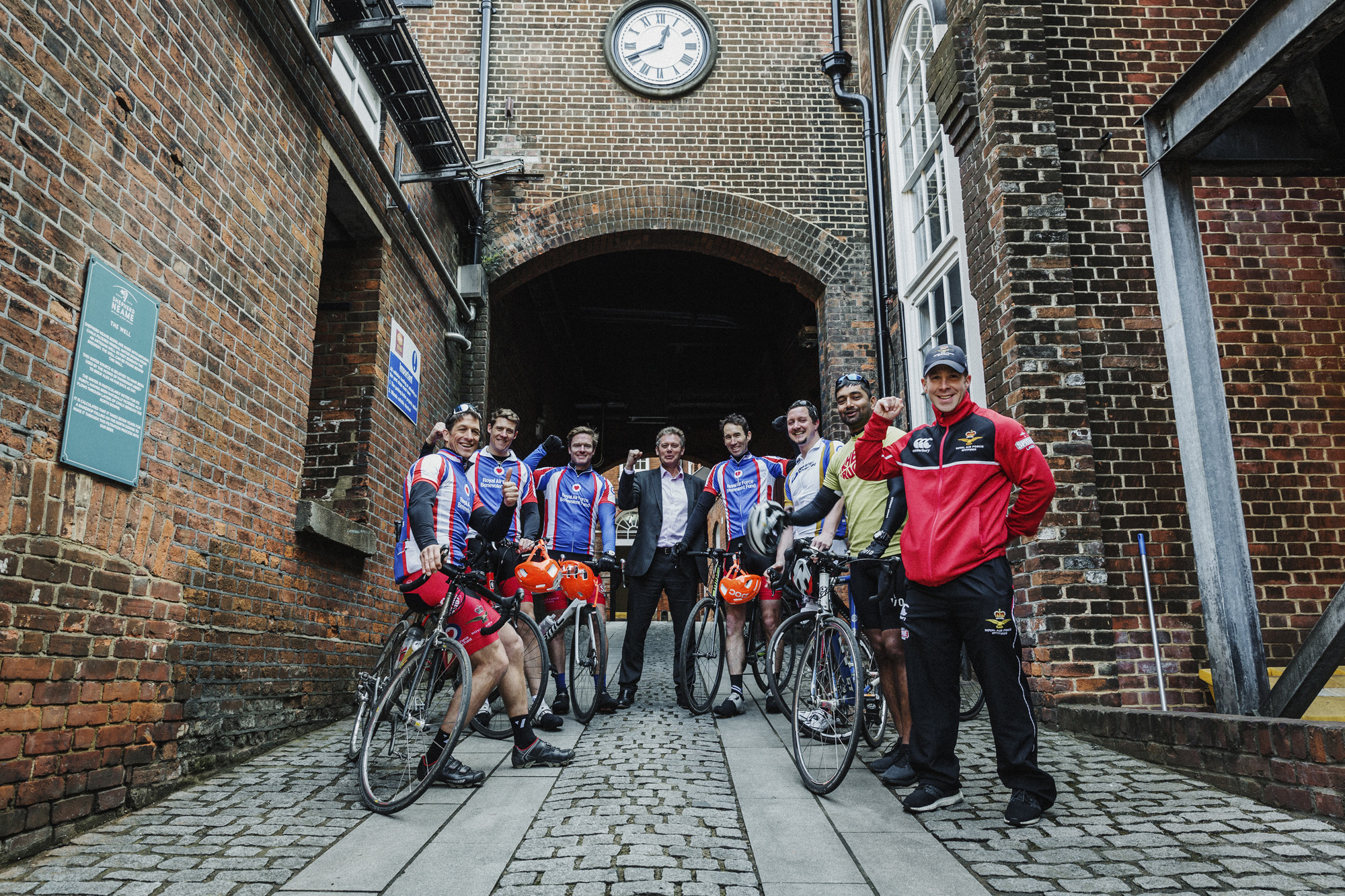 Squadron Leader Tim Barlow said: "It's been a brilliant experience to be out there at Stalag Luft 3 where the great escape started and to re-enact the home run. It was a very poignant experience which brought the past and the future together very nicely.
"It was a lot easier for us to do it, we had the luxury of staying in hotels at the end of each day.  Obviously it was much more arduous back in 1944, but we got a sense of the distances involved and the difficulties that they must have encountered."
Shepherd Neame is the main sponsor of the RAF Spitfires Rugby 7s, as well as being a long-standing supporter of the RAF Benevolent Fund and an official partner of the RAF. Shepherd Neame's classic ale Spitfire was first brewed to mark the 50th anniversary of the Battle of Britain.
Chief Executive Jonathan Neame said: "Shepherd Neame has been supporting the RAF Benevolent Fund for almost 30 years now in a variety of ways. 
"These guys represent the rugby wing and it's a fabulous achievement to cycle 1300km in some pretty tough weather conditions on difficult roads, all to commemorate one of the most famous and daring events of the last hundred years, namely the great escape."
Prior to commencing the cycle ride, Tim Barlow, Nick Monahan, Nathan Jones and Alexander Blackstock, the starting four riders, recreated part of the actual escape itself, tunneling out of the POW camp to make their way to Zagan station, where they collected their cycles.
The 1300km route saw them make their way through Poland, Germany, the Netherlands and Belgium before catching a ferry from Dunkirk to Dover. En route they visited both Colditz Castle and the Mohen Dam, scene of the legendary Dambusters Raid.
Sqn Ldr Barton added : "The weather on the first two days was pretty horrible. We had a very strong headwind, it was raining and very cold. Everything was numb. That was a test for us as individuals and also as a team. But the hospitality we encountered along the way was incredible.
"One of the goals was to get back to Faversham for a pint of Spitfire. The relationship between the RAF Benevolent Fund and Shepherd Neame is a marriage made in heaven."