We have worked hard to make our pubs & hotels safe for you and our team members, with measures including:
Clear rules & signage
Online Order & Pay at table 
Introducing a single entrance and exit where possible
Table planning to allow for social distancing
Simplified menus online, single use menus on the day
Table service
Hand sanitiser for all
Extensive training for our teams
The new pub rules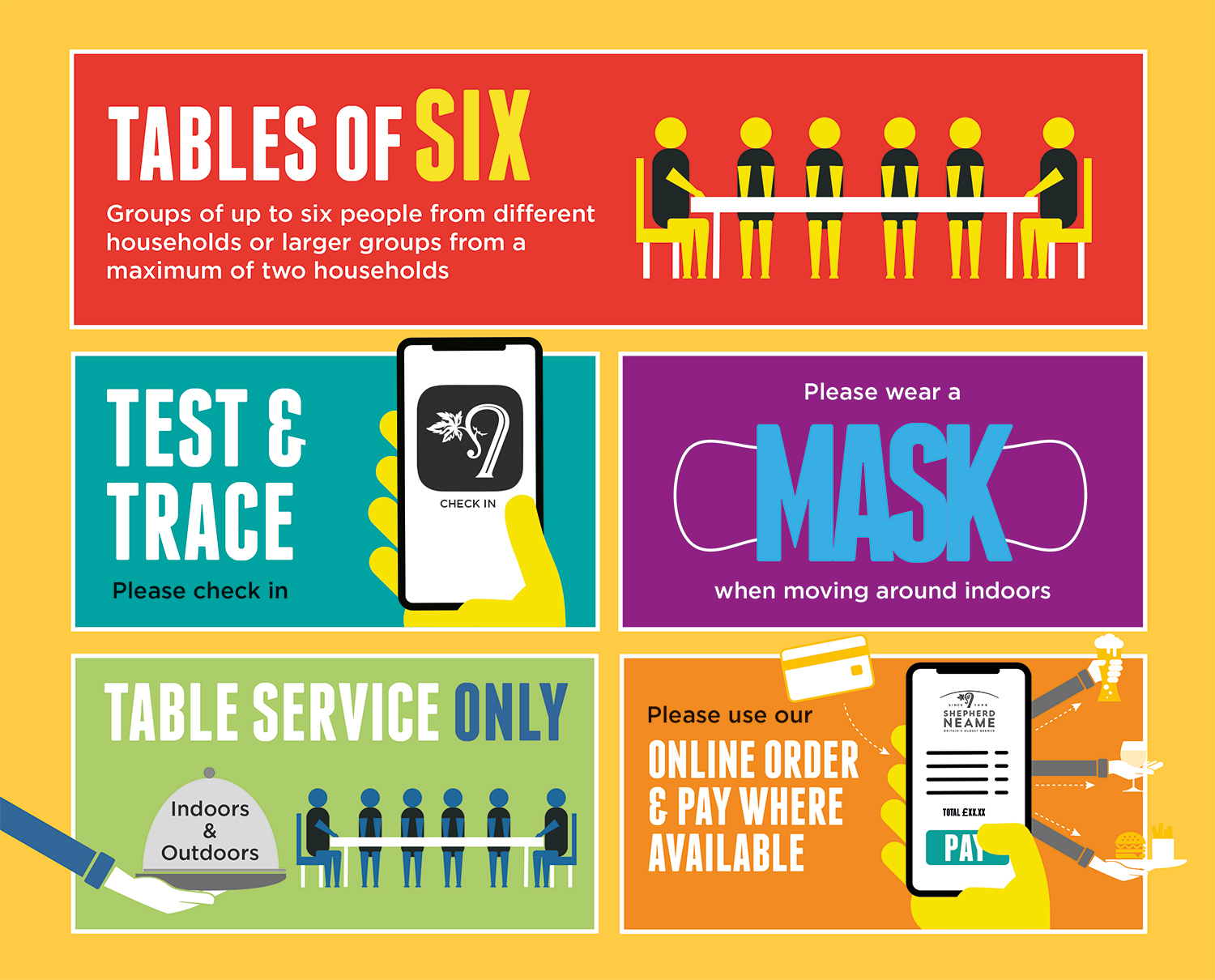 Guidelines from May 17
---
Do you accept walk-ins?
We will accept walk-ins for food and drinks, although you may have to wait for an available table.
Do I need to book a table?
We will only be offering seated table service while social distancing requirements are in place. This will result in reduced maximum occupancy, so we strongly recommend that customers book in advance for food, either by phone or online, where this is available.
How do I book?
Please book online if that option is available on the individual pub website. If not, please call the pub directly. Bookings will not be taken via social media channels.
If I book a table for food, how long can I stay on for drinks?
While there is no official limit on the time you can stay at our Managed Houses, please do check with staff on site when you order. Our aim is to allow as many customers as possible to safely enjoy our pubs.
Is there a limit on the number of people that I can book a table for?
We can accept bookings for groups of up to six people from different households, or larger groups from a maximum of two households. This number includes babies and children.
Can I request outdoor tables when booking?
Our outside tables at our Managed Houses are not bookable. Customers who have booked an indoor table can request to sit outside for their booking, and their request will be accommodated where possible. If we are able to seat you outside at the start of your booked slot, you will be giving up your inside booking and your table will no longer be available. If you simply wish to have a drink outside before your indoor table is available we will accommodate your request where possible. For our tenanted pubs, please see their individual websites for booking guidance.
Find your local:  https://www.shepherdneame.co.uk/pubs
Can I book for drinks only?
Come along for a drink, but we are only accepting advance bookings for food.
Do I have to wear a mask?
Customers are required to wear a mask or face covering when entering and moving around the pub. These may be removed when seated at tables or outside.
 
A face covering is something which safely covers the nose and mouth. You may also use a scarf, bandana, religious garment or handmade cloth covering but these must securely fit round the side of the face.  Government guidelines state that a face visor does not count as a face covering as this does not fit around the side of the face.
 
Face coverings do not have to be worn whilst seated outdoors however these must be worn if a customer stands up to leave their table or whilst staff are servicing customers.
Do I have to provide my name and contact details before entering the pub?
It is a legal requirement to obtain customer details on arrival. This can either be collected at the point of arrival via a member of staff, via Shepherd Neame Track & Trace or through the NHS QR code.
We are required to implement the following measures:
Ask every customer or visitor (over the age of 16) to provide their name and contact details​​​
​​Retain the records of all customers who have visited for a period of 21 days and provide to NHS Test and Trace if requested
The above are applicable to customers who sit both indoors or outdoors
The Government guidance now also states that those customers who fail to provide details should be refused entry.
Will accommodation be available?
Pubs / hotels/ inns with accommodation are open for bookings from May 17th 2021.
What happens if I need to cancel?
Due to the exceptional circumstances currently being faced by our pub teams, it is more important than ever that you let us know if you need to cancel a booking. Your support in this matter is appreciated.
What measures have you taken to ensure customer safety?
We have invested in extensive measures to protect our customers and team members, including the following:
Issuing infrared thermometers to all pubs to allow team member temperature checks ahead of every shift
Issuing new safety signage to all pubs to reassure and inform, including floor stickers to indicate social distancing requirements. This signage is being sourced locally from our Charity of the Year Royal British Legion Industries.
Till screens to protect our team members have been installed across our managed estate
Physical screens to create safer, more intimate spaces have been installed across our managed estate
Additional mobile PIN-entry devices have been issued across our managed estate to allow more contactless and card payment at the table
Hand sanitiser dispense stations installed across our managed estate
3,000 face masks for team members in our managed estate have been sourced locally from Sittingbourne firm Tillett Racing Seats
We will also be introducing some temporary changes to the way we operate, including:
Seated table service only which reduces capacity numbers
Tables removed/spaced out in line with Government guidelines
Single entrance and exit points to the pubs where possible
One in, one out system for pubs with smaller toilet space
Introduction of single-use recyclable paper menus
All condiments removed from tables and replaced with ramekins when requested
Cutlery will be brought to you by our team members
Increased cleaning regime, with focus on high touch points
No standing at the bar, with drinks provided by table service in the bar area
Please note that we will follow Government guidance on any additional measures that are required.
How will service be affected?
Our team members will be following social distancing guidelines at all times, so it may take a little longer to serve you, but we hope that you will bear with us during these exceptional circumstances.
Food and drink must be ordered from and served at, a table.  Customers must eat and drink at a table.  This extends to both food and drink which is consumed indoors and outdoors.
How will our visit to the pub be different?
Our aim is to ensure that you feel safe when visiting our pubs, while still endeavouring to create the same authentic and engaging Shepherd Neame experience that you usually enjoy in our distinctive and individual pub environments.
How will my hotel experience be different?
We are introducing some minor temporary changes to the way we operate our managed hotels, including the following:
Housekeeping
To keep contact to a minimum, our housekeeping team will not service guest rooms daily. Guests requiring fresh towels will be asked to notify our reception team and the team will arrange for them to be left outside their room.
 
Masks
Guests are required to wear a mask or face covering when entering the hotel and when in communal areas. In dining and bar areas. Masks may be removed when seated at tables. Please see guidance above as to what constitutes an acceptable face covering.
How will social distancing guidelines be enforced?
We are confident that our customers will respect the rules, but the police and local authorities have powers to enforce social distancing requirements and can instruct customers to disperse, leave an area, issue a fixed penalty notice or take further enforcement action.
---
Please note that we will be reviewing this information regularly, in line with the latest Government advice. Last updated 17th May, 2021
Any questions? Contact us at comms@shepherdneame.co.uk.